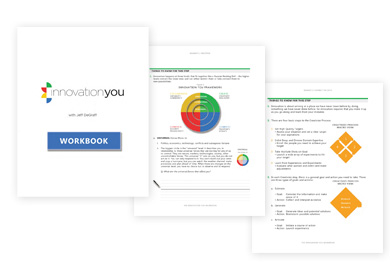 Innovation You Workbook
Download the Innovation You workbook and follow along with the Innovation You workshop participants while watching the DVD. In the workbook, you'll find the key principles of Innovation You, and all the step by step instructions in constructing your own innovation plan.
By using the workbook, you'll be just like one of the workshop participants and learn to understand the four fundamental innovation approaches and your own innovation style along with its strengths and weaknesses. Then you'll learn the four "creativizer" steps to become a successful innovator: (1) Set high quality target, (2) Enlist deep and diverse domain expertise, (3) Take multiple shots on goal, and (4) Learn from experience and experiments. With these four steps, you will develop a series of innovation plans, from which you continue to get smarter and grow to become a more complete you.
The workbook is available to Innovation You Premium members. If you are not subscribed to the premium web, you can do so here.
"Simply put, Jeff's methods work! In working with Jeff and his framework to transform various aspects of our business model, it became increasingly clear that he was also subtly transforming me and my team. It's clear that the step by step process he's used to transform business can likewise be unleashed to re-shape and transform the individual." Clinton A. Lewis, Jr. President, U.S. Operations Pfizer Animal Health, Pfizer Inc.